Stone Acupressure Massage Mat
$19.99

Want to go for a massage but don't want the
hassle

to go to the Spa?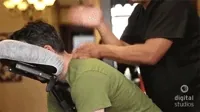 Have a foot or back massage at the comfort of your own home with Stone Acupressure Massage Mat! Stimulate acupuncture points like a Japanese stone garden!
There has been a medical breakthrough in keeping the body away from pain and relieving stress and anxiety. Researchers and doctors have come together to design the Stone Acupressure Massage Mat to help you live a more fulfilling life.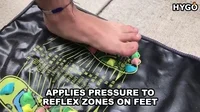 Our Stone Acupressure Massage Mat uses the healing powers of reflexology to improve your overall health. The mat is covered in tiny stones to apply pressure to certain zones on your feet, which in turn triggers and promote health in other body organs. Some issues the mat can help with include anxiety, headaches, and cardiovascular health.
The peddles on this mat are shaped to simulate a Japanese garden with a massaging stone path. They are positioned meticulously so that it massages your acupuncture points on your feet. Not only does it massage your feet, but it also releases muscle tension, improves blood circulation, and induces better sleep.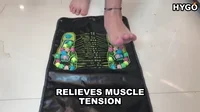 200,000 around the world has used the Stone Acupressure Massage Mat with great results. 87% have reported they feel more relaxed after using it, 65% reported they don't get headaches anymore and 83% said they don't have body pains.
"WE ARE VERY THANKFUL THAT OUR RESEARCH HAS HELPED

87

%

OF OUR ELDERLY PATIENTS LEAD A MORE FULFILLING LIFE." - DR BRAND, RESEARCHER
"T

he stones are a bit harder than I had anticipated, but still feels good to stand on knowing that it is still benefiting your body in different capacities. " - John, 44, User
FEATURES and BENEFITS
ELIMINATE TOXIN - Our Reflexology Stone Foot Acupressure Mat helps to eliminate toxins in the human body.
EASY TO USE - Our mat is easy to use. It can be used indoor and outdoor.
STRENGTH IMMUNITY - Our mat adjusts the function of entrails, relaxes the nerve ache, ease tiredness of the muscle, strengthens the immunity of the human body.

PROMOTE METABOLISM

- Foot massage to stimulate reflex zones, promoting metabolism, clear the meridians, qi, and blood, adjusting visceral function, and enhance immunity.

BOOST ENERGY

- Foot massage can stimulate cell vitality, prevent cell aging, and prevent disease.
Helps

stimulate blood circulation

and revitalize your body

Easy to take with you

- portable and lightweight.

Versatile

- Use in your kitchen, bathroom, living room, office

Affordable

- one mat provides countless hours of relief whenever you need it

Relaxes

and eases tired muscles
Applicable to
Middle-aged and elderly:

E

lderly people are relatively easy to suffer from chronic diseases due to their high age.

This product can

improve

the heart of the human body. It has a good

therapeutic effect

on 

menopausal syndrome, irregular menstruation, irregular heartbeat, and cervical spondylosis.
Less movement activity: Sitting for a long period of time causes less movement. People will get these symptoms: forgetful, depressed, and loss of appetite. Using this product can effectively alleviate the above symptoms, and

long-term

use can achieve better health effects.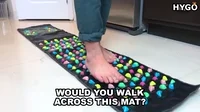 SPECIFICATIONS
Size: Small: 35 x 70 cm; Large: 35 x 120 cm
Weight: 350g,220g
Material: Leather-PP
PACKAGE INCLUDES
1 x Stone Acupressure Massage Mat
SHIPPING FEE - FLAT RATE OF $5.99
NO SALES TAX
SHIPPING DELAY NOTICE: Please expect 2-4 weeks shipping delay due to the High Volume of Order.
You might also like