PediCare™ Fabric Forefoot Pads
$14.99

YOU CAN NOW MAKE YOUR HIGH HEELS COMFORTABLE!
PediCare™ Fabric Forefoot Pads are ideal for any and all sufferers of moderate to severe bunions, toe drifting, and/or toe-overlap. They are perfect for walkers, runners, cyclists, and all alike! Simply put on the PediCare™, align the toe separator, and enjoy your everyday life with all-day-long comfortable relief!
Do you hate your bunions but want to avoid an expensive surgery? If your bunions aren't treated correctly, they can lead to further health issues. Some common health issues that result from untreated bunions are arthritis, bursitis, hammertoe, and metatarsalgia.
Don't accept the low quality of life with severe bunion pain. There is finally a natural and painless solution in sight. Our PediCare™ is specifically designed by professionals to reduce bunion pain and get you back on your feet.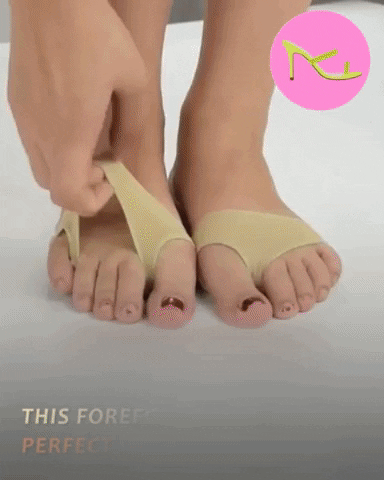 The combination of the toe separator and gel bunion cushions has been orthopedically designed to treat bunions and eliminate daily swelling, chronic pain, and inflammation.
In case your bump has already formed these sleeves allow to ease soreness from rubbing and prevent calluses, blisters, and corns.
More specifically, the toe separator gently re-positions the big toe into a more natural alignment, therefore providing uniformity in toe direction, improvements in balance and gait, all whilst reducing soreness! 
FEEL THE DIFFERENCE WITHIN WEEKS
Correct your bunions in a gentle and comfortable way using our revolutionary orthopedist-approved PediCare™ corrector. Simply wear it day or night for immediate relief after a tough day. It will effectively ease pain and relieve pressure on your feet.
From just wearing our PediCare™ corrector sleeves 5 to 15 minutes a day you can already expect to feel a huge difference within weeks. Daily activities will suddenly be transformed from painful to painless. Start enjoying your life again!
Don't ever worry about having to live with painful untreated bunions. Your bunions will be treated and corrected as soon as put on the PediCare™ sleeves.
Wear it around the house during normal daily activities or in bed while asleep as a bunion night sleeve. They slip onto the foot like a sock and can even be worn in socks, shoes, and orthotics all day for maximum comfort and bunion correction. Our PediCare™ sleeves fit most sizes and can be enjoyed by both men and women.
Keeps Our Feet, Toes, and Arches Protected




These amazingly soft, gel-based metatarsal pads will adapt to the shape of our feet, providing support, mitigating pain, and decreasing the pressure, we can finally enjoy our day free from foot pain.
Rapid Foot Pain Relief




Soft Fabric foot pads provide cushioning, support, and reliability across the entire ball of your foot. Alleviate pain due to calluses, bunions, or Morton neuromas caused by long periods of standing or rubbing for better all-day comfort.
Unisex and One Size Fit Most




Fabric pads are moderately thick and have a convenient size, they are very elastic and perfectly stretched which let them fit most feet sizes, help to prevent the disease's progression, and soothe the long-lasting burning feeling in your forefoot.
Breathable and Elastic




Metatarsal pads fit all types of feet being elastic and breathable. Metatarsal padding has an ergonomic design that helps reduce pressure and tension on the forefoot, no sweat, non-slip, no pain.
Reusable and Comfortable




Thick soft foot pads don't slip and don't have an unpleasant odor even after long day use, great for women and men, can be easily and quickly cleaned with warm water and soap.
Look Great with Better Feeling
Relieves pressure on the ball of your foot
Provides weight distribution while standing
Absorbs shocks while walking, running, and jogging
Stretchy fabric and silicone for superior cushioning. Washable and reusable
Unisex fit and one size fit most
How To Use:
Specifications:
Features: Anti-slip / Invisible Half-toe / Pain Relief
Package Includes:
1x PediCare™ Fabric Forefoot Pads
SHIPPING FEE - FLAT RATE OF $5.99
NO SALES TAX
SHIPPING DELAY NOTICE: Please expect a 2-4 weeks shipping delay due to the High Volume of Orders.
You might also like