Hummingbird Feeder
$29.99
Looking to feed all of your hummingbirds at once — from just one feeder?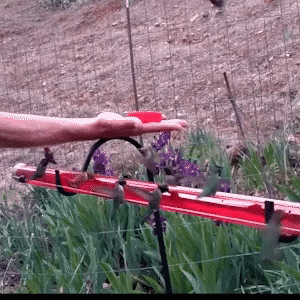 This feeder hangs horizontally from your porch or patio. Each port is perfectly spaced to allow hummingbirds to feed side-by-side, meaning you could literally be feeding 44 hummingbirds at one time.
This feeder is built of shatterproof clear red plastic, which allows you to monitor nectar levels. a color that's a proven attractant to hummingbirds. The hanging cords, end caps, and stopper are a matching red, adding to your chances a hummingbird will investigate the massive feeder.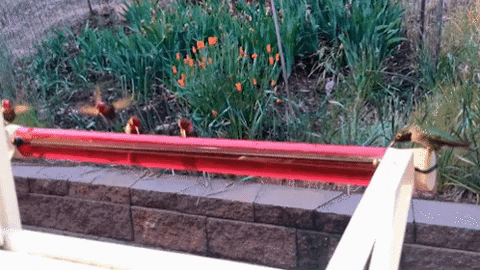 With this feeder, you'll have the ultimate hummingbird feeder!
Very easy to clean - just shoot a garden hose through it. The super-smooth and the slick interior have no crevices that can harbor mold.
How to hang:
Remove an end cap.

Remove the nectar-pouring funnel from the tube.

Replace the end cap.

Select an outdoor area to hang the feeder

Hang using loops at end of hanging cords — make sure the feeder is low enough to access for refilling and cleaning.

Level the feeder by adjusting its cords. Slide cord locks up and down as needed to level.

***MAKE SURE THE FEEDER IS COMPLETELY LEVEL BEFORE FILLING IT WITH NECTAR***

Remove the rubber stopper from the nectar basin and insert the funnel.

Fill about 1/4th full with hummingbird nectar. Compare each end by eye. If nectar is pooling to one side, then adjust cord locks again.

Once the nectar is evenly distributed, continue to fill the nectar basin until half full. Do not overfill.

Remove the funnel, insert rubber stopper.
SPECIFICATIONS
Material: PVC + Mushroom + Rope
Sizes:

SMALL - 40cm / 15.75 inch long 3cm / 1.18 inch diameter
LARGE - 60cm / 23.62 inch long diameter 5cm / 1.97 inch diameter

Condition: New
Color: Red
PACKAGE INCLUDES
SHIPPING FEE – FLAT RATE OF $5.99
NO SALES TAX

SHIPPING DELAY NOTICE: Please expect a 2-4 weeks shipping delay due to the High Volume of Orders.
You might also like