Sale
Extreme Lumens Tactical Flashlight
$29.99

A flashlight that will turn night into a day!
When people pick the superpowers they'd most like to have, they usually go for things like flying, invisibility or super-strength. How about the power to turn night into day? That would be pretty cool.
Everyone needs a flashlight. Sure, you can get by with your smartphone in a pinch—or maybe even most of the time—but there's no substitute for a bright, dependable flashlight that you don't have to worry dropping in the dark.
These days, there are plenty of LED flashlights that are small, bright, and cheap, but spending only a bit more money can have huge benefits.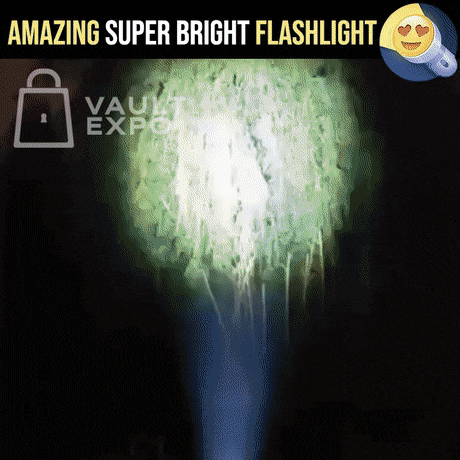 Extreme Lumens Tactical Flashlight didn't need to be bitten by a radioactive spider or come from another planet to gain control over the power of the sun. It just built what it calls "the world's brightest flashlight"
.
Light up your life with a handheld flashlight that makes you think the sun magically came out early.
Turn the dead of night into the middle of the afternoon by turning on the world's brightest flashlight. Made with a super tough military-grade aluminum frame, it is capable of producing an astounding 3000 or 5000 lumens of intense white light.
FEATURES
ULTRA BRIGHT & LONG-LASTING - Easily light up an entire room or focus in on objects up to 1000 feet away! 10 times brighter than old incandescent lights. Conveniently powered for hours with AAA batteries or a single rechargeable battery. (Batteries not included)
COMPACT, ADJUSTABLE FOCUS, & FIVE MODES - 5 Useful Settings (High|Medium|Low|Strobe|SOS) and wide-to-narrow beam zoom make it ideal for use around the house, dog walking, or camping. It is compact enough to fit in your pocket, backpack, or purse allowing for easy storage and quick access.
ZOOM IN | ZOOM OUT
Five (5) modes: High | Medium | Low | Strobe | SOS
WATER RESISTANT & VIRTUALLY INDESTRUCTIBLE - Built for rough handling, this flashlight can survive a 10-foot drop or be temporarily submerged underwater. You can even freeze or run it over with a truck and it will still work! Suitable for use in rain, snow, or emergency situations.
ADVANCED DESIGN

- Made with

super-tough military-grade aluminum frame.

Skid-Proof design & Water Resistant design.
SPECIFICATIONS
3000 LUMENS:
LED Emitter: XM-L T6
LED Life: 100,000 hours
Emitted Color: White Light

Switch type: Tail cap switch

Lens: Convex Lens

Size: 197x 35 x 25 mm

Battery: 2 x 18650 (NOT INCLUDED)
5000 LUMENS:
LED Life: 100,000 hours
LED Emitter: XP-L V6 15000LM
Emissive Color: White Light
Switch Type: Push Switch
Dimensions: 190mm x 42mm x 25mm
Lighting Distance: Over 200 meters

Battery: 1x18650 / 3 x AAA (NOT INCLUDED)

4 times brighter than XML L2
PACKAGE INCLUDES
3000 LUMENS:
5000 LUMENS:
1 x LED Flashlight
1 x AAA Battery Holder
1 x 18650 Battery Sleeve
SHIPPING FEE - FLAT RATE OF $5.99 
NO SALES TAX
SHIPPING DELAY NOTICE: Please expect a 2-4 week shipping delay due to the High Volume of Order.
You might also like