Sale
Dog Boots Paw Protector
$9.99
THE PAW-FECT WAY TO KEEP YOUR PUP PROTECTED! 🐶🐕🐩
Fond of dog walking? Our pooches want all the outdoor moments they can possibly get. That's why their paws easily get dirty or injured by the harsh terrain. And, as a pet owner, you'll have to do something about it, right?
Let your fur baby's health start from their paws up! The question is... How can you make it happen? Well, here's where this set of Dog Boots Paw Protector comes to work! Check out why it's the best for your adorably goofy fur babies.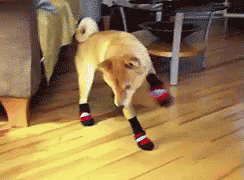 It is designed to protect your pup from hot, cold, and dirty surfaces, and is perfect for dogs suffering from arthritis or other mobility disabilities. 

With a soft, rubber coating for comfort and a double-coated waterproof barrier for durability, these one-of-a-kind dog boots are a must-have for protecting your pup's paws!
Reflective Dog Accessories: You will feel secure knowing that your dog has on these reflective dog boots at night.

Safety in Case of Rain: The anti-skid soles will keep your dog from slipping dangerously on ice or wet surfaces.

Water Repellent: If you are caught outside with your dog during a sudden rain shower, have no fear! The dog's feet will stay dry inside these pet shoes. 

Easily Wearable: It's no trouble to get these boots on your dog's paws. You can quickly loosen the cord and slip the boots on, then tighten the cord using the buckle.

Designed for Canine Comfort: Made of breathable cotton fabric, the winter dog boots will provide comfort as well as protection to your beloved pet.
SPECIFICATIONS

 Material: Cotton / Polyester / Rubber


Sizes:

XS — 28 x 35 x 25 x 70 mm
S — 32 x 39 x 25 x 80 mm
M — 37 x 45 x 30 x 90 mm
L — 43 x 52 x 35 x 105 mm
XL — 50 x 60 x 40 x 120 mm
XXL — 56 x 68 x 45 x 130 mm
XXXL — 66 x 80 x 50 x 150 mm
PACKAGE INCLUDES
4 pcs x Dog Boots Paw Protector
SHIPPING FEE - FLAT RATE OF $5.99
NO SALES TAX
SHIPPING DELAY NOTICE: Please expect a 2-4 week shipping delay due to the High Volume of Order.
You might also like