Sale
Desktop Punching Bag
$39.99

The CEO just asked for something impossible again – smack that punching ball up, your customer changed all the specs, punch that ball BIG!!! Argh!!!


SMASH YOUR WAY OUT OF A BAD DAY

Is coworker annoying you? Don't take… give that ball a wack! Your boss just increased your target and lowered your pay – you
know what to do! Anti-stress toys smash that anger out of you, so you can return to your job with angelic calm.
Way more fun than a stress ball!
There's something quite satisfying about hitting a punching bag — especially after "touching base", "giving 110%", "taking it to the next level", "running numbers", "shifting paradigms", and "moving the goal post" all week long.
Go ahead and slap the Desktop Punching Bag on to your desk and take out a bit of your aggression Rocky III style*.
*This means you snarl incredulously at the bag as you taunt, "You ain't so bad. You ain't so bad. You ain't nothing. Yeah, I ain't breathing heavy!" and then proceed to knock it out.

RELIEVE STRESS FROM YOUR DESK
These punch balls can attach to any surface to give you instant stress relief right at your fingertips
RESILIENT SPRING KEEPS COMING BACK FOR MORE
The durable spring bounces the punching ball back every time you hit it so that you can keep going until you're calm
HEAVY-DUTY COMPOSITION
No matter how long you need to vent, this ball punch toy can take the heat over and over.
GREAT FOR HOME OR WORK ENVIRONMENTS
Kill daily life stress at home or work tension at the job with these stress reliever toys
INCLUDES EVERYTHING YOU NEED
This desktop punching ball comes with an air pump to ensure that the ball is always inflated and ready for action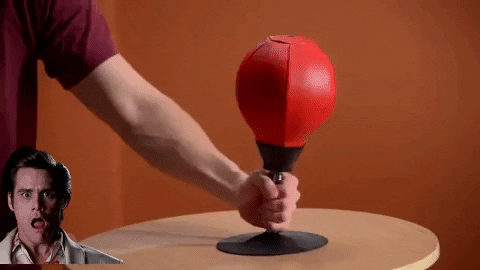 Go ahead, hit it as hard as you want!
The strength of the Desktop Punching Bag amazes nearly everyone who uses it. You can slug it as hard as you want, and the suction cup will not come unstuck.
Check out the photo below where we lifted an end table purely from the strength of the suction cup. It's seriously strong.
Note: Moving the suction cup is simple. Just peel up an edge and it releases easily.
Comes with its own pump
Inside the Desktop Punching Bag is an inflatable bag. Occasionally, it will require a top-off. You can use any standard air pump with a needle attachment or the included hand pump.
SHIPPING FEE - FLAT RATE OF $5.99
NO SALES TAX
SHIPPING DELAY NOTICE: Please expect a 2-4 week shipping delay due to the High Volume of Order.
You might also like